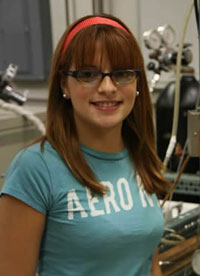 Status: Graduated September, 2011 (Ph.D.) 

Research Area :hydrothermally stable niobia catalysts

Hometown: Puerto Rico

Graduate Studies: University of Puerto Rico - BS in Chemical Engineering

Publications:


Pagan-Torres Yomaira J; Gallo Jean Marcel R; Wang Dong; Pham Hien N; Libera Joseph A; Marshall Christopher L; l am Jeffrey W; Datye Abhaya K; Dumesic James A Synthesis of Highly Ordered Hydrothermally Stable Mesoporous Niobia Catalysts by Atomic Layer Deposition. ACS Catalysis (2011), 1(10), 1234-1245.

Chia Mei; Pagan-Torres Yomaira J; Hibbitts David; Tan Qiaohua; Pham Hien N; Datye Abhaya K; Neurock Matthew; Davis Robert J; Dumesic James A Selective Hydrogenolysis of Polyols and Cyclic Ethers over Bifunctional Surface Sites on Rhodium-Rhenium Catalysts. Journal of the American Chemical Society (2011), 133(32), 12675-12689.

Pham Hien N; Pagan-Torres Yomaira J; Serrano-Ruiz Juan Carlos; Wang Dong; Dumesic James A Improved Hydrothermal Stability of Niobia-Supported Pd Catalysts. Applied Catalysis A - General (2011), 397(1-2), 153-162.